The NHL season is thankfully underway! What better way to celebrate than passing judgement on which players are bad and signed to the worst contracts this season? Dash a little optimism and break a few hearts before your team has a chance to do it for you!
Trust me when I say picking out the 10 worst contracts in the NHL was a lot harder than you think. I had a list of 22 and got seriously stumped at 18. And that was after I decided they needed to have at least 3 seasons remaining.
I feel like I Nathan Horton might be #1 on next years edition.
Author's note: Don't hold a player being on this list against them. Hold it against the dumby manager who thought it was a good idea. If Talking Baws wanted to grossly overpay me then you can sure bet I'd accept it!
10. Ryan Callahan, 6 years left, $5,800,000 annually.


General Manager Steve Yzerman has done such a good job in Tampa Bay that you want to forgive him of the odd misstep, but you really can't in a salary cap world. Or at least not for long.

High cap hit. Lots of term. Brand new contract for a player with a body continually breaking down. Callahan has only played three of his six big league seasons at anything close to resembling a full year. His level play was already showing signs of falling off for the Rangers to boot.
Maybe removing him from New York where they've played a more grinding, heavy system in his career can shave some of the miles off his legs and keep his joints glued together. If not, this contract is going to look even worse before you know it when he's bouncing between the third and fourth lines as a 31-year-old.
9. Ryan Miller, 3 years left, $6,000,000 annually.


Reason #1: He's been on the decline since 2011 and couldn't even be average behind a team as good as the St. Louis Blues, a team that is significantly better than the Vancouver Canucks.
Reason #2: He's getting 6 million a season in a market where the Canucks essentially bid against themselves to drive up the price they paid for him while a better, or at least equal, goaltender in Jonas Hiller signed for significantly less in Calgary.
Reason #3: There will be trade talk and buyout chatter before this contract is even a year old once Eddie Lack outplays him by Christmas.
Reason #4: Lack, the better goaltender, will end up being traded. All for whatever reason this signing made sense.
8. Vincent Lecavalier, 4 years left, $4,500,000 annually.


Ray Ferraro thought teams were high when they were fighting to sign him. Why would teams be high to sign a player who put up 20-17-37 in 69 games?

He just completed the first season of his contract and the Philadelphia Flyers were already desperately trying to trade him this summer. When they realized he was damn-near untradeable, they considered buying him out.
After one season.
That one season came where they signed him after he got bought out by his previous team.
He stands to be a buyout candidate after this season for financial details and cap implications, which will make him the first player to be bought out twice. Woof.
7. Dennis Seidenberg, 4 years left, $4,000,000 annually.


The biggest danger with "defensive" defenceman is that once they lose even a bit of mobility, they're hooped. It's a steep decline once their legs start to go. Did I mention that he's a 33-year-old coming off surgery to repair the MCL and ACL in his right knee. He wasn't fast before, and he won't be any quicker now.
Whats worse though, is that the contract for an aging, slowing, defenceman with limited puck skills has cost the Bruins a quality player in Johnny Boychuk because of the cap crunch that his contract helped to largely contribute towards (well, Chris Kelly's absurd contract too. At least the NHL is being gutless and not penalizing them for Marc Savard as well).
Lucky for him, he's likely to play significant minutes with Zdeno Chara. That'll make people think he's better than he is for at least the next two years. Thats about it.
6. Ryane Clowe, 4 years left, $4,850,000 annually.


Would you pay nearly 5 million dollars for a third liner with injury issues such as upwards of 4 concussions, bad shoulders and damaged legs? What if he had poor skating, yet was only 31? I wouldn't.
His offence is essentially gone which turns him from a power forward to a grinder, if you're being generous. And it's not even like his play dropped after he signed the contract. He showed he was on the decline for 2 years before this contract.
Lucky for him, the Devil's strong defensive systems help hide the skating deficiencies of their old, old, roster so Clowe won't look as bad as he is just yet, but… 4 more years. That's 4 more years of regular injuries and declining play taking up cap space and a roster spot.
5. Dan Girardi, 6 years left, $5,500,000 annually.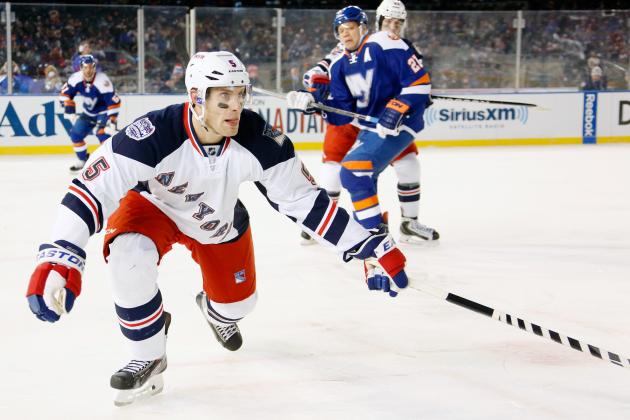 This is easiest in a checklist.
Already slowing down ✓
Aging over 30 ✓
No effective offensive game ✓
Average puck skills ✓
"Defensive" defenceman ✓
Remember when I said that one day a defensive defenceman's legs just go on them? Girardi was getting turn-stiled regularly by the end of last season. I don't see that stopping any time in the next 6 years.
He's also going to have to play more tough minutes, that he struggled with, with the departure of defensive stalwart Anton Stralman.
4. Dave Bolland, 5 years left, $5,500,000 annually.


I don't understand why teams think that if they pay a bad player star money, that the bad player becomes a star. He isn't a 5.5 million dollar player. He isn't even close.
He's riding a reputation he made by scoring a huge goal. All the credit to him for that, but before that he was stapled to the bench and rarely let off the fourth line.
He was discarded by the Stanley Cup champions because you can get a player for 800k to do his job. Why everyone cannot figure that out astounds me.
He recorded 9 points total playing half of a season with Patrick Kane (12 points with Bolland, 43 points without in that same time span).
Players better than David Bolland signed to be depth "checking" centers this off-season: Mike Santorelli ($1.5 M), Daniel Winnik ($1.3 M), Vern Fiddler ($1.25 M), Olli Jokinen ($2.5 M), Dominic Moore ($1.5 M), Marcel Goc ($1.2 M), Brian Boyle ($2 M).
In fact most teams have a player within their developmental system who can play at an equivalent level to what Bolland does. He's just not good.
3. David Clarkson, 6 years left, $5,250,000 annually.


Another bad player who got star money because I guess the team figured "Once we sign him to big money, he's gotta become a big time player, right?"

His own GM, the guy who signed him, admitted it was a bad contract but it took a bad contract to get him so he isn't worried. For whatever logic that makes.
¯\_(ツ)_/¯
Don't forget to mix in a coach that had no idea how to use the player, despite apparently pushing for the GM to sign him because he played "the coaches style." How you come to that conclusion without properly researching the player is a mystery to me.
Recap: Big contract, long contract, not good at hockey, poor coaching, irresponsible management, over the age of 30. Oh, and it is buyout proof too, so the Leafs will never get away from it.
He also falls over a lot.
2. Andrew MacDonald, 6 years left, $5,000,000 annually.


You'd think someone in their prime, age 28, would be better.
He cannot defend zone entries well (78.6% carry-in entries against), he only breaks up entries at a rate of 4.8%, he's directly targeted for entries 48.7% of the time (worst on the Flyers), and gets continually pinned in his own defensive zone because of all this.
Compare that to teammate Braydon Coburn: allowed 62.8% of carry-ins, broke up entries at a terrific 11.7% and was only targeted 21.1% of the time.
He's an astoundingly bad -17.8 Corsi Relative. That is the worst for any defenceman in the NHL to play more than 40 games last year. That means that per 60 minutes of play his team is outshot by almost 18 shots. That boils down to him being outshot by about 6 extra shots against per game considering he plays 20+ minutes a night.
So he gets targeted a lot because he's not good. He's not good because he can't break up an entry so you can almost always gain the zone against him and set up your offence. When you easily set up your offence he provides a shooting gallery.
But I guess since he plays "off the glass" hockey he doesn't look as terrible to the eye as he is.
1. Brooks Orpik , 5 years left, $5,500,000 annually.


This contract has everything that makes the Seidenberg, MacDonald and Girardi contracts and is worse. Why worse? Orpik is 34, and the contract runs until he's 39. So re-read those, but sub out their names for Orpik's.
His last good season was 2011 and since then he's seen a significant drop off in his ability to defend.
Also, he's 34.
His legs were only kinda-sorta hanging on last season. Anyone who saw him at the Olympics/playoffs knows that he can't keep up with stars anymore, but that is Washington's plan for him.
Don't forget he's 34.
Washington better hope that Barry Trotz can work some magic and make him look respectable or you'll hear buyout candidate talk as early as next summer.
Agree? Disagree? Let me know in the comments below or on Twitter @adam_pyde.
Tags
Adam Pyde
,
andrew mcdonald
,
Boston Bruins
,
brooks orpikw
,
dan girardi
,
dave bolland
,
David Bolland
,
david clarkson
,
dennis seidenberg
,
florida panthers
,
Johnny Boychuk
,
Nathan Horton
,
national hockey league
,
New Jersey Devils
,
New York Rangers
,
NHL
,
Philadelphia Flyers
,
preview
,
ryan callahan
,
ryan clowe
,
ryan miller
,
Ryane Clowe
,
steve yzerman
,
tampa bay lightning
,
top 10 worst contracts
,
Toronto Maple Leafs
,
vancouver canucks
,
Vincent Lecavalier
,
Washington Capitals